April 16th, 2019
If you're considering orthodontic treatment for yourself or your teen, you've got a decision to make. Do you opt for traditional treatment using metal braces? Or do you go with Invisalign, which uses a series of clear plastic trays to straighten your teeth? At OrthoCare Orthodontics, we get asked the "Invisalign vs braces" question quite a bit. While the decision is ultimately yours to make, we'll lay out the pros and cons of each treatment option.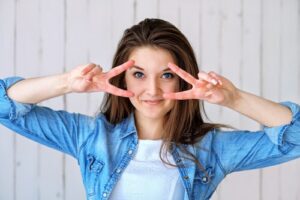 Invisalign treatment
With Invisalign treatment, a series of 3D printed trays are used to move your upper and lower teeth to more aesthetically pleasing positions. You'll change the trays periodically, typically every week. Each new tray slowly brings your teeth into a better position.  There's no need to come to the office every month for adjustments like you would with metal braces. You can manage your own treatment as long as you replace the trays on the schedule directed by your orthodontist.
Invisalign trays are taken out when you're eating or cleaning your teeth. That means you won't have to change what you eat or avoid the foods you enjoy in order to accommodate your orthodontic treatment. You also won't have to purchase specialty equipment just to keep your teeth clean while they're being straightened. The only thing you'll have to remember is to brush your teeth before you put the Invisalign tray back over your teeth after eating.
There are other benefits to Invisalign as well. Invisalign doesn't come with the discomfort and problems often associated with metal braces. Invisalign trays are comfortable and don't leave your gums and cheeks sore. Plus, the trays are completely clear. No one will ever know you're having orthodontic treatment unless you choose to tell them!
While they have many benefits, Invisalign may not be right for people with significant spacing issues or over/under bites. The system is good for people with relatively straightforward straightening requirements.
Metal braces
Used for decades to straighten teeth, traditional braces are usually best for more complicated cases that require bites to be corrected or the palate expanded along with straightening the teeth.
Braces consist of metal bands and brackets with wires threaded through that connect your teeth. These elements work together to slowly move your teeth into the correct position.
Metal braces are glued to your teeth, so you can't remove them. That means they can be a challenge to keep clean. Food particles get stuck in the brackets and under the wires. You may need to purchase a water pik or other equipment so you can adequately clean food from your braces.
You'll also need to avoid some foods completely. Sticky, crunchy and hard foods are not permitted during orthodontic treatment with metal braces. If you play contact sports, you'll also need to wear a mouth guard to protect your braces during the game.
Metal braces also must be adjusted regularly. So, you'll need to return to the orthodontist's office at least once a month for adjustments to be made. Your specific treatment plan will dictate exactly how often you must return. And the adjustments can cause discomfort to your mouth. The metal brackets rub raw areas on your mouth which makes it difficult to chew or talk.
Even with these drawbacks, metal braces are the best choice for many adults and teens who need a good deal of correction.
If you have additional questions about treatment with Invisalign vs braces, please contact our office. We're happy to help you decide which option is right for you. Plus, new patients can receive $500 off orthodontic treatment at any of our locations!