Whether you have braces now or have a teen in your family with braces, you may notice there are other patients with braces are using tiny rubber bands. Wondering why that is? Let's discover why your orthodontist may be recommending the use of rubber bands as part of your orthodontic treatment.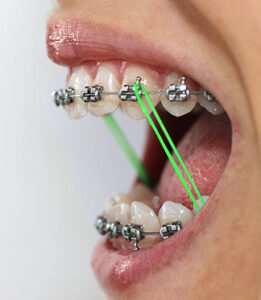 What is the Purpose of Rubber Bands for Braces?
Ultimately, the purpose of rubber bands for braces, which are sometimes known as interarch rubber bands or elastics, is to help make sure your jaw is placed in such a way that your teeth, once they are shifted to their new position, will properly line up. The rubber bands work by applying a constant and steady amount of force and pressure to the jaw area. The force and pressure help to shift the jaw into the desired new position.
Who Needs to Use Rubber Bands?
Not every person who gets metal braces will need to use rubber bands. It will all depend on the alignment of the jaw. If the jaw is unaligned and causes a cross-bite, underbite, or overbite, rubber bands will need to be used in order to subtly and slowly move the jaw into proper alignment.
Are Rubber Bands Used for the Whole Length of Orthodontic Treatment?
How long you will have to wear rubber bands as part of your orthodontic treatment will depend upon how much your jaw and teeth need to be adjusted. If the jaw and teeth only need to be slightly shifted, you may only have to wear the rubber bands for several weeks. However, if your jaw and bite need major adjustments you could end up wearing rubber bands for almost the entire time of your orthodontic treatment.
What to Expect if You Should Need to Use Rubber Bands
Wearing rubber bands in your mouth will be a completely new experience. Luckily, it isn't painful; just a little uncomfortable. As you adjust to wearing rubber bands, the discomfort you are experiencing will often decrease and eventually, you won't even notice them in your mouth.
You will be completely responsible for the placement, care, and maintenance of interarch rubber bands for braces. If your orthodontist recommends wearing rubber bands for your braces, you can expect to have to do the following things on a regular basis:
Remove the rubber bands when eating or snacking
Remove the rubber bands when brushing and flossing
Replacing the rubber bands with new rubber bands every single day
Not doing these things could cause you to experience delays in orthodontic treatment or it could prevent you from getting the best results from your orthodontic treatment.
What Happens if You Choose to Not Use Rubber Bands with Your Metal Braces?
Not everyone is thrilled about having to wear rubber bands as part of their orthodontic treatment. However, it has to be done if you wish to improve your smile.
If you choose to undergo orthodontic care and not use rubber bands, your teeth will still be straightened out. They just might not look as straight as you wish them to look because the alignment of your jaw is causing your smile to appear slightly distorted.
Schedule a Consultation with an Experienced Orthodontist
Our experienced orthodontists will take x-rays and digital imaging, which will be used to create a comprehensive orthodontic treatment plan for you. That treatment plan may or may not use rubber bands as it will depend upon the alignment of your jaw.
Curious to see if you may need rubber bands for your braces? Call OrthoCare Orthodontics to schedule an orthodontic consultation.